Please contact us or see individual's website information if you would like to make an appointment with any of the Practitioners below.
Kate Woods: Conscious Birthing founder, Debriefing supporter, Doula Guide, Course facilitator
I have been serving families throughout the journey of labour, birth and postpartum for over 22 years, since the birth of my first baby ignited my passion for this rite of passage. After having attended many births and postnatal families over the next few years within my own community here in Glastonbury, I eventually sought out some training with Michel Odent. Supporting women and their new families during this time was so clearly on my path, and by then my faith and trust in the process had been deeply grounded in joyful experience. I believe that brings us as women the potential for re-birth, and to birth in love is to heal generations of pain, whilst giving our babes the very best blueprint for life. My intentions were set from then; I would serve Creation herself!
It was another nearly 10 years of working within the community before I started to offer the 'Doula package' as it is today. From there, I began feeling inspired to write about what I considered to be the most useful aspects of this work: non-judgement, intuitive and active listening, presence, flexibility and faith, and a deeply reflective practice. I eventually began to create a Doula Course, which I've now been delivering for nearly 10 years. Currently I'm creating a network called 'Doulas Without Borders' (www.doulaswithoutborders.com) which will set a gold standard of Doula care and support for women in vulnerable times. 
I remain deeply inspired by the rite of passage that is the childbearing year, by the potential we have as Doulas to encourage, support and empower, and I fundamentally believe that peaceful birth is a key to helping heal future generations.
Lily Sequoia: PA and Project Co-ordinator
I have been involved with women-focused projects since my time at Leeds University, when I brought the first Community Production of the Vagina Monologues to the UK in 2001. I went on to run a women-only theatre production company, before working with Lynne Franks at the SEED network. I have been involved in running women's circles for the past 8 years, where I have learned the importance of women-centred networks of support.  
More recently, I have been making and touring a documentary film and community-building project, called wetheuncivilised, A Life Story, which looks at ecology, spirituality, activism and what it means to be a human being at this time of environmental and sociological crisis. The film asks: How can our actions honour future generations?
In 2018, I did my Birth Doula Training with Kate at Conscious Birthing, and she hasn't been able to get rid of me since! Birth work brings together all of my passions - Women's rights, care, therapeutic work, advocacy and communication. My work as a Doula puts me in service to the absolute awesomeness of the human body and the human spirit, and the pivotal role our wellbeing plays in the wellbeing of the world.
Adela Stockton: Supervisor for Conscious Birthing Guides
I am a BACP registered psychodynamic counsellor, supervisor and counselling tutor. My background is in midwifery and doula work, including former course leader at Mindful Doulas. While an interest in perinatal mental health led me from birth work into counselling, my key focus is now around the impact of childhood trauma. I have always believed that supervision offers a valuable supportive space for the practitioner to reflect without feeling judged, and that reflection is essential to our work. Author of 'Birth Space, Safe Place: emotional wellbeing through pregnancy and birth' and 'Gentle Birth Companions: a handbook for doulas and parents': I continue to blog about support in childbirth as well as emotional wellbeing as a parent, linking my current work with the role of the doula.
Sarah Holmes: Secretary, Complaints and Feedback manager, Business Support Doula
Sarah Holmes describes herself as a 'Doula for Life', a term which reflects the Multi-faceted supportive roles a traditional lay handy-woman can serve within. Sarah is passionate about the grass-roots origins of our work as doulas, and is deeply inspired by her great grandmother who served as a handywoman in the north east and was regularly called to attend both women in labour and to the dying or recently transitioned.
Sarah has been supporting women during childbirth since she was about 4 years old and found herself the sole support for her Mother as she had a spontaneous first trimester birth at home. This intimate connection between birth and death has been the theme of Sarah's vocational journey ever since and has been echoed time and time again through Sarah's own birthing and life experiences. Sarah has supported many pregnant and birthing women over the years but has also been the go to friend, for support with anything from homelessness, domestic violence and abuse, addiction recovery, mental health problems, relationship breakdowns and grief. All of this  experience underpins Sarah's passion for being a doula for life, and her ability to offer loving, non-judgmental and compassionate support through anything and everything that life can throw at us.
Sarah trained with Conscious Birthing in 2012 because after the birth of her youngest daughter, she wanted to learn what physiologically normal birth was (having never experienced it herself) in order that she might one day support her daughter without her own birthing blueprints getting in the way. Sarah went on to support many local families working as a birth and postnatal doula and mental health doula until early 2016. During that time Sarah also worked as a volunteer with a local hospice and then went on to spend 9 months working as a community carer in order to expand her skill and knowledge set of wider adult care needs, with a special interest in End of Life Care and Dementia. Sarah is also a very experienced practitioner and teacher of Original Japanese Reiki, her Reiki practice providing the deeply grounded foundation of her ability to serve as a Doula for Life. Sarah has also been helping to run the Wincanton Breastfeeding Cafe since 2011.
Drawing on her extensive experience of working in varied secretarial and administrative positions over the years, combined with her vocational knowledge and experience of working as a life doula, Sarah joins the team at the Conscious Birthing Community as our Business Support Doula, Compliments/Complaints manager and Web-Mother for our virtual meeting spaces.
Sarah has 3 children and lives in Bruton with her partner and 2 youngest children.
Contact Sarah at: http:http://nurturingmaternalwisdom.com
Isla McLeod: Shamanic Practitioner and Celebrant
I am a celebrant, Shamanic practitioner and facilitator for creating journeys, ritual and ceremonies for individuals undergoing transformation and those seeking to connect more deeply with Nature and the ancestral realms.
Since childhood I have been inspired by the exploration of what it means to be human, and what gives us meaning. Through the power of our intention, words and actions, we co-create the reality we experience. A ceremony provides an opportunity for us to be purposeful and clear about what we are creating, and connect us to our intuitive and imaginative faculties. They also remind us how supported we are, cultivating strong threads to the Spirit and ancestral realms, as well as the elements.
I am passionate about creating meaningful experiences that connect us to our deepest and highest Self, allowing our innate wisdom and creativity to flourish. The initiations we undertake as women are profound and deeply empowering and provide valuable opportunities for us to heal, release, dream and re-create our reality. Through ceremony we honour these sacred feminine mysteries, punctuating a significant time or transition in our lives, imbuing it with meaning and weaving our own unique story that empowers and awakens. Pregnancy is one of our core rites of passage as women, and as we reclaim it as such, we are healing our feminine line of the past and future.
Whether a menarche ceremony, blessing way, moon lodge, earth mandala, or making a birth bundle, there are infinite ways to express and celebrate our transformations as women. I also offer rites of passage ceremonies for couples becoming parents and naming ceremonies once baba is born.
Pregnancy offers a powerful opportunity to clear away old patterns and release inherited stories and beliefs that no longer serve us.  In addition to ceremonial work I am trained in Shamanic modes of healing; holding space for regression, soul retrieval, cord cutting, ancestral journeys and sound healing.
Cassandra Rosa: Mayan Abdominal and Altai Massage Therapist, Doula Guide and Cerrada Practitioner.
Cassandra has been gathering embodiment tools throughout her life. A Degree in Creative Expressive Therapies firmly grounded her in the knowledge and practice of accessing innate creativity, which can be our greatest source of healing, strength and joy. After the Degree she delved deeper into body-based practises and trained in Altai and Holistic Massage and Naturopathic Healing. Later, she trained as a Conscious Birthing Doula. This felt like a natural progression, assisting the most embodied creative practise known to Woman! Her Doula journey took her to Honduras where she volunteered for grass roots charity Dar a Luz, working on labour wards to improve Maternity services throughout the country, and with local midwifes to empower and support the maintenance of medicinal and traditional knowledge.
After training in Guatemala with Mayan Midwife, Dona Domingo, Cassandra incorporates Mayan Abdominal Healing into her work. This is a wonderful way to reconnect with core space and address physical and emotional imbalances. She also offers Mexican closing ceremonies, known as Cerrada, in the lineage of Angelina Martinez. This is a celebration of a Woman's body, honouring and marking pregnancy and birth. It assists deep release and grounding nourishment after such transformation. 
Cassandra loves working with local herbs and makes bespoke body butters, oils and medicinal balms which she sells and uses in her Doula and Massage work.
She lives in Bristol and enjoys cooking, Aerial Silks and listening to music in her spare time. She is an advocate of bedroom dancing and eating chocolate. For more information about her services, see website: http://www.Artemisroseservices.weebly.com/or email at: artemisrose@hotmail.co.uk
Sundari Miranda Falconer: Womb Yoga practitioner and Course facilitator
Sundari Miranda's passion for specialising in Women's Health, was essentially birthed from completing her 700-hour Structural Yoga Therapy (SYT) qualification in 2007. This apprenticeship, with the acclaimed late Yoga Therapist, Mukunda Stiles, focused her expertise with working with the 'General Pelvic Area' (her Case Study title), and in particular, the Sacroiliac Joint.  
Whilst completing her SYT apprenticeship, she met her colleague Uma Dinsmore-Tuli, author of 'Yoni Shakti'. In 2009, during Sundari's first pregnancy, she went on to assist for Uma and qualified in her 'Pregnancy Yoga Training'. Her continuing commitment to Women's Health gained her a certification as a 'Well Woman / Womb Yoga Therapist' in 2011. She is now a contributory tutor on Uma's 'Well Woman Teacher Training Program', offering a session on the importance of stabilizing the Sacroiliac area. 
In 2013, she completed the NHS accredited 'Yoga for Health Lower Backs' training, which furthered her understanding of working with the lower back area. 
In the 6 years or so between her first pregnancy, and her second in 2016, she became passionate about post-natal care. 
Her enthusiasm to assist women at this time in their lives was also fueled on by the fact that the offering of information on pelvic floor / wall practices in our mainstream medical care, seemed to be lacking. 
This, and the knowledge gained from working with women in her One-to-One Yoga Therapy setting, her 'Womb Yoga' background, and her own post-natal recovery, has inspired her to create a training in Post-Natal Pelvic Health Care. A training that aims to empower and restore balance in women's health in an otherwise often vulnerable time. 
Sundari lives in Somerset, with her partner and two sons and their cat, and where she teaches her weekly Gentle Vinyasa Style Yoga, and Pregnancy Yoga Classes and offers One-to-One YogaTherapy / Well Women Sessions and Birth Rehearsals. Meet Sundari at the 2019 Women's Yoga Conference: http://www.womensyogaconference.co.uk
Sophie Knock: Homeopath, Flower Essence and Bioresonance Practitioner
Sophie is a homeopath, bioresonance practitioner and flower essence producer and practitioner. She is co-founder of Wild Medicine Essences and has been part of the Chalice Well Flower Essence Team since its inception; co-creating essences and working with them on her clients in her Holistic Health practice. She is a member of the Royal Society of Homeopaths and a Tutor for the British Flower Vibrational Essence Association and teaches on the Advanced Practitioner Training course at Chalice Well. Sophie is qualified in Vibrational Medicine, Reflexology, Holistic Massage and is a registered Homeopath. Her passions are Nature, healing and co-creation; to share with people the profound experience of the love, joy and wisdom of Nature.
Contact Sophie at: http://www.holistichomeopath.co.uk
Kay Dayton: TRE Practitioner and Course facilitator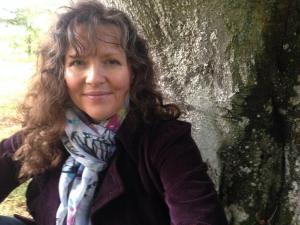 I am a Certified TRE (tension & trauma release exercises) Provider and an Artist. I have also trained and am qualified in Therapeutic Body Massage and Healing. I am passionate about empowering others, especially women, to feel at home, grounded, alive and safe in our bodies. TRE helps release the chronic held tension patterns in the body that prevent us from being truly embodied and present. What I love about TRE is that once you learn the exercises you can carry on practising on your own and allow the body to release in a safe and comfortable way, it feels like a real gift to share it with others. I offer individual sessions, groups and workshops in TRE, in a beautiful space in Glastonbury. As an Artist, I have explored my menstrual cycle for the past 20 years have and created work that honours and celebrates women's cyclic nature. I create installations as altars to the Feminine and as a mark of change in my life, similar to a rite of passage. I feel honoured to be affiliated with Conscious Birthing. I live in Glastonbury and I am also very Scottish, I love spending time in nature, being creative and enjoying good company.
Contact Kay at: http://www.treglastonbury.co.uk